Good morning to all from Greece / Athens!

My name is Christos and i just joined your unique site just a few days ago. Excuse me for my english but I am not very familiar with french. Actually I use the google translator to read all the posts. Thanks to Antoine the creator of this site it's really easy even for someone who don't speak french to navigate to this usefull site and get too much information that can't be found anywhere else on the web.
So goodmorning also especially to you Antoine and many congratulations for the perfect job you have done!
I am a windsurfer for many years since I was really young and among the others i got the passion of building my own boards back in 1987. I don't have any extended experience but during these years i had build 3 boards and i really loved all the procedure although messy sometimes. Now the need for creating something with my own hands came again and i am ready to start building my own board with the help of all the info got from this site.
But i have some questions for the begining and maybe you could helpe me clarify:

1. I own a Goya 72 single fin 2007 and a FSW RRD 92 2010, so I am thinking to build a wave board around 82 lt for use in the greek -mainly onshore- conditions. That means a board that could plane really early with good upwind ability. I am closer to the design of a twinfinn like quatro tempo 84lt or a trifin board like 80lt wave thruster antoine has built in this site. Do you think Antoine that i can use your shape of 80lt thruster with less tail rocker in order to achieve better planning conditions? What is your experience with your shape ?

2. You think is a good idea to use the RRD 96lt 2012 shape by reducing linnear the outline and profile in order to get around 80lt?

3. Does anyone have any detailed data for any other 80-82 lt thruster board ?

Meanwhile as a small contribution to this site I will attach some data I found searching the web for the Witchcraft (hardcore) wave board[url][/url]

Thanks again for giving me the possibility to be in this forum and excuse me for the english.

Christos
Hi Christos
Pleased to count you among the members of this site, and really thank you for your comments about it. I'm happy it can help even "no French speaking" people.
As for my "very little" experience of Thrusters (since I used it in 1985 !!....), as I said it in another post, here is what I feel: I have sailed for months with 2*9cm Twins + 20 cm single fin. What I can say, is that the board gets more grip than with a single (21.5 or 23 cm), but I feel like the glide is a little less good, and the board less reactive and slower.
I think my twin fins wheren't flexible enough , and I'd really like to try a 2*11.5+16.5 combination.
I don't know if the Thruster configuration really fits On-shore conditions. Another feeling, is that a deeper single fin makes the board sail "higher" (nosed up). For the upwind abilities ,Thruster is quite satisfying.
Here are some scans of a 2011 "special Test" about multifins…..It can give you an idea of Rocker lines…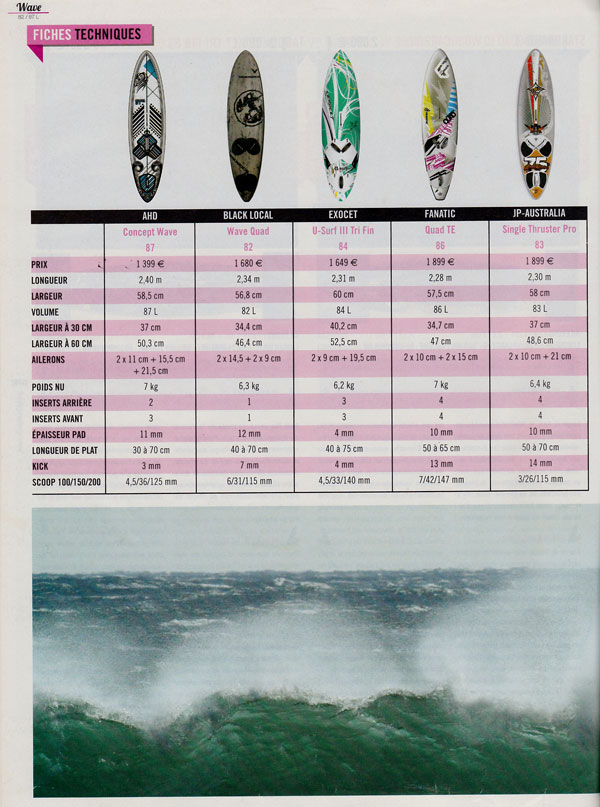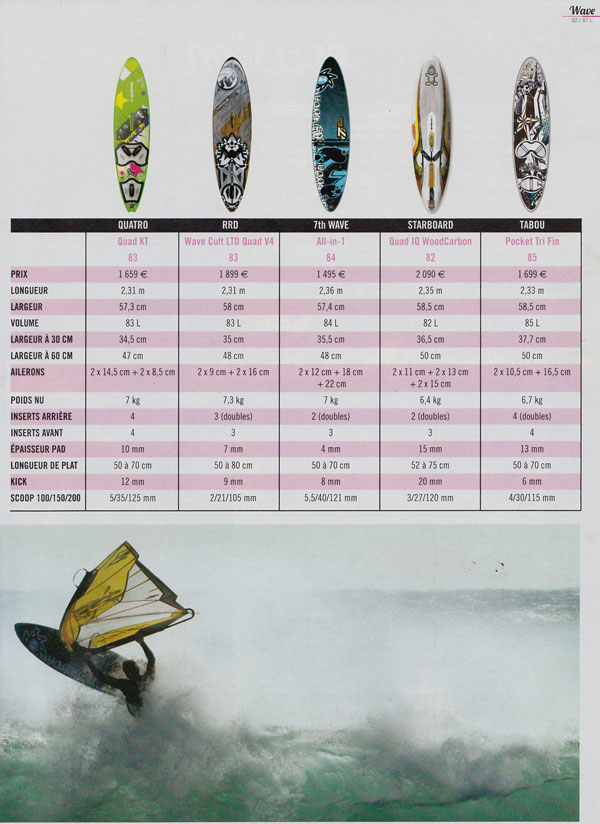 If you need the full test for a board, tell me.
Write you later
Antoine
Admin




Messages

: 1633


Date d'inscription

: 17/03/2010


Age

: 48


Localisation

: Saint Brévin



Christos a écrit:Meanwhile as a small contribution to this site I will attach some data I found searching the web for the Witchcraft (hardcore) wave board[url][/url]
sorry, but you forgot the link...




Messages

: 126


Date d'inscription

: 27/05/2011


Localisation

: Barcelona



Good morning Eric,
Here is the link. Hope it will help.


Hope the link works. If not send me a message and I will forward to you.
Christos
Good morning Antoine,

Thank you very much for your quick reply and all these usefull data you send me. I am actually thinking to build a board based on the Taboo Pocket Tri fin 85 (or maybe something little smaller around 80lt) so if you have any additional data about this or any smaller version this would be helpfull. Especially data concerning thickness and rail shape.I also heard from some friends (but i didn't sail) that the new fanatic quad 81lt is a very good shape so if you have any data for that it would be nice.
Some more questions i have are the following:

1. Is there any need for toe (angle) in the position of the side finns? or the boxes are installed parallel to the center fin box? Any deviation from the perpendicullar axis (toe) of the side finns (or the are installed 90o vertical to the board)? I am still a little confused on that subject since it seems that different manufacturers have different options. Why not use thruster plugs for the side fins (not so strong)?

2.Release valve is included in the mast box (chinook type)? Number of plugs for each footstrap? How you install the accesories (mainly the footstrap plugs) without leaving any epoxy resin going in when laminating? you put some materila inside? how you open the sc rew of the footstrap plug?

3.Do you put the laminated board in the ''oven'' for curring during vaccum process or after vaccum? I asked supplier of epoxy resins and they told me that it is a post curring process. First Vacuum and next day curring in 40-50 oC. Is it right?

4. Some more details about the materials used after last carbon lamination. Is it possible to use microballons or glassbubbles, sanding and finally use a UV epoxy resin? or I must paint before epoxy resin with a PU (white) color? Is there any need for use of a gel coat?

These for today.
Have a good day.

Christos
Hi Christos
So many questions !.......
I'm sorry, but I've no other informations about Tabou tri fin 85…..the only thing I could give you would be the test in the french magazine…
As for the toe angle, witchcraft as an idea of what works best….
http://www.pierrefremion.fr/HTLM/News/THE_RETURN_OF_THE_TRIFIN.htm
I put my fins perpendiculary to the bottom, but there's some V where a placed them…..But you're right, the question has several times been asked….
http://guidedupetitshapeur.creerforumsgratuits.fr/t100-thruster-22858
For a windsurf board, i think planing is the main question, except for a specific surfing board.
I put 4 plugs for each footstrap, to avoid the twist
No matter that some resin could get into plugs, I pierce then after again. And for the boxes, when you laminate over them, resin doesn't flow in.
You can (must…) put the board in an oven after all the laminating operations are done…..Fortunately no need to do it at each step !!
On my last boards, I used after laminating, a white tinted epoxy resin (for sanding). It is quite nice on carbon and could be a "last finish"….I've painted with a PU paint, but I could have let it in that state.
Write you soon
Antoine
PS: To put pictures on your post, you must use these tabs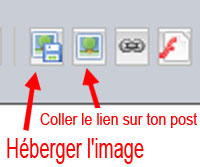 Send your picture, and copy the link after !

Admin




Messages

: 1633


Date d'inscription

: 17/03/2010


Age

: 48


Localisation

: Saint Brévin




Sujets similaires
---
Permission de ce forum:
Vous
ne pouvez pas
répondre aux sujets dans ce forum